Scranton Times Tribune: Richard J. Steffen, 69, of Rileyville, died unexpectedly Tuesday at his home from an apparent heart problem.

Born Dec. 11, 1931, in the Bronx, N.Y., son of the late George F. and Ada Doherty Steffen, he was a high school graduate of the De La Salle Institute, Manhattan, N.Y., and earned a business degree from Manhattan College. He was a peacetime Navy veteran, serving after the Korean conflict. After his discharge, he was a wholesale milk dealer for Gold Medal Farms Inc., New York, which he ran after his father's illness until he retired and moved to the family homestead in Rileyville.

He was a member of St. John the Evangelist Parish, Honesdale, and attended St. Joseph's Church, Rileyville, where he was a choir member. He was a recycling volunteer for Damascus Township.

An avid football fan, he was a particular fan of the New York Giants and had held season tickets since they played at the polo grounds. He was also a gardener and a hunter.

Surviving are a brother, Paul, Rileyville; a sister, Margaret Mary "Mimi" Steffen, Honesdale; nieces, nephews, great-nieces, great-nephews and cousins.

He was preceded in death by two brothers, John and George Jr.

A funeral Mass will be celebrated Saturday at 10 a.m. in St. Joseph's Church, Rileyville. Interment, St. Joseph's Cemetery.

Friends may call Friday, 2 to 4 and 7 to 9 p.m., at the Hessling Funeral Home, 428 Main St., Honesdale. Memorial contributions may be made to the St. Joseph's Organ Fund, c/o St. John the Evangelist Rectory, 150 Terrace St., Honesdale, 18431.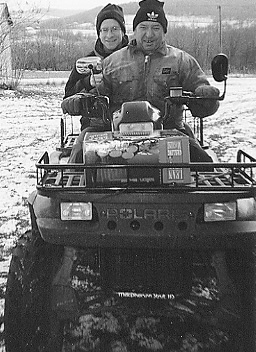 On his ATV with nephew Jim Ampe
The Homestead, Rileyville
Christmas 1999
Richard Jerome Steffen
December 11, 1931 - August 14, 2001
Known to us all as Rich, Richard, Dick and most importanly Uncle Richard - he'll be greatly missed.
Singing "Danny Boy"
(click to hear his favorite song)
January 1999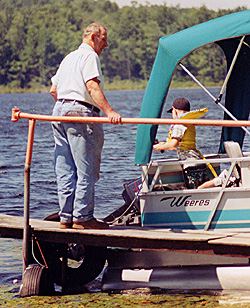 Fishing with his great-nephew
and namesake Jerry
(Richard Jerome Shea)
July 2001
News Archives: Spring 2000 News
Fall 2000 News
Spring 2001 News