James Doherty turns 88!
Jim Doherty will turn 88 on May 3, 2000. Jim's featured here in an oh-so-Irish hat his granddaughter Rita picked out for him. Jim's home on Rose Lake in Rileyville is the beloved site of the annual Doherty family reunion. Best Wishes Jim!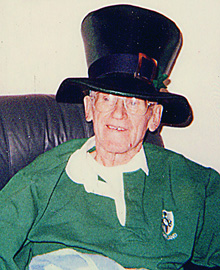 Steve Jacobi, Rileyville's local fiddler, has a CD out! Many of you know Steve from the barn dances at the Doherty reunion. Steve's band is called Fiddlin' Around and their music CD At Home With Friends is just great.
For more information contact Fiddlin' Around.
From the Honesdale, Weekly Almanac, March 8, 2000:
Vincent Carmody Dies
Vincent Carmody, 86, of Sidney, NY passed away Friday, March 3,2000 at his home. He was born to the late Daniel and Anna (Doherty) Carmody on March 16, 1913 in Queens, NY. He married Leona Rowland on July 1, 1927 in Hawley. He retired from E.C.D. of Bendix as a Quality Control Analyst. Mr. Carmody was a member of the Lodge of the Elks, Sidney and the Loyal Order of Moose, Sidney as well as a member of the Sidney Golf and Country Club.
In addition to his wife, he is survived by: two sons and daughter-in-law - Leo of Sidney, NY and James and Deborah Carmody of Stuart, Florida; a brother and sister-in-law, Leo and Barbara Carmody of Sharpsburg, N.C.; five grandchildren - Daniel and Shirley Costello and their daughter, Devon of Beach Haven, N.J,
Donna and Bernt Hansen and their children, Brigitte and Bernt of Af ton, N.Y.; Kathy and Darren Oswald and their children, Stefanie, Melissa, and Cameron of Afton,N.Y.,Michael and Heather Costello and their children, Jake and Natalie of Amold, Maryland; Rebecca Carmody of Orlando, FL.
A Mass of Christian Burial will be held March 13 at St. John the Evangelist Catholic Church, Honesdale at 10 a.m. At Mr. Carmody's request there will be no calling hours.
Burial will be private and at the convenience of the family. In lieu of flowers contributions may be made to Catskill Area Hospice, 542 Main St., Oneonta, NY 13820 or the Sidney Emergency Squad.Arrangements are under the direction of C.H. Landers, Inc. of Sidney and Hessling Funeral Home, Honesdale.



Clare Gartland turns 89!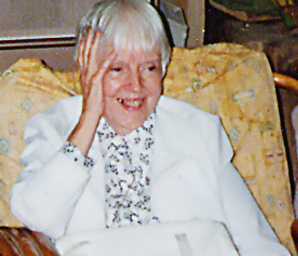 Clare Gartland, Religious of the Cenacle, will celebrate her 89th birthday on Tuesday, March 21, 2000. Clare is the granddaughter of James and Mary Burke Doherty and the daughter of Edward and Kathryn Doherty Gartland. Clare is retired and is residing at the Brentwood Convent near Lake Ronkonkoma, Long Island.